In Timor, a project is underway to establish a forest of kapok, cotton and other trees that will be used for natural dye extraction. The dyes will then be used by women in Timor to color the yarns they use to weave traditional cloths.
Deforestation and forest fires left only tough tallgrass (alang-alang) overgrowing the depleted soil. With combined efforts, a lush productive forest is being created.
Unlike West Sumatra, Timor—located in eastern Indonesia—and is dry and barren, and lacks the pioneer vegetation of alang-alang. To replenish the humus layer,, Gliricidia, also known as the rain tree, is being used. This plant is found throughout Timor and is ideal for restoring land as it is not liked by cows and deer. The plant also fixes nitrogen which promotes plant growth.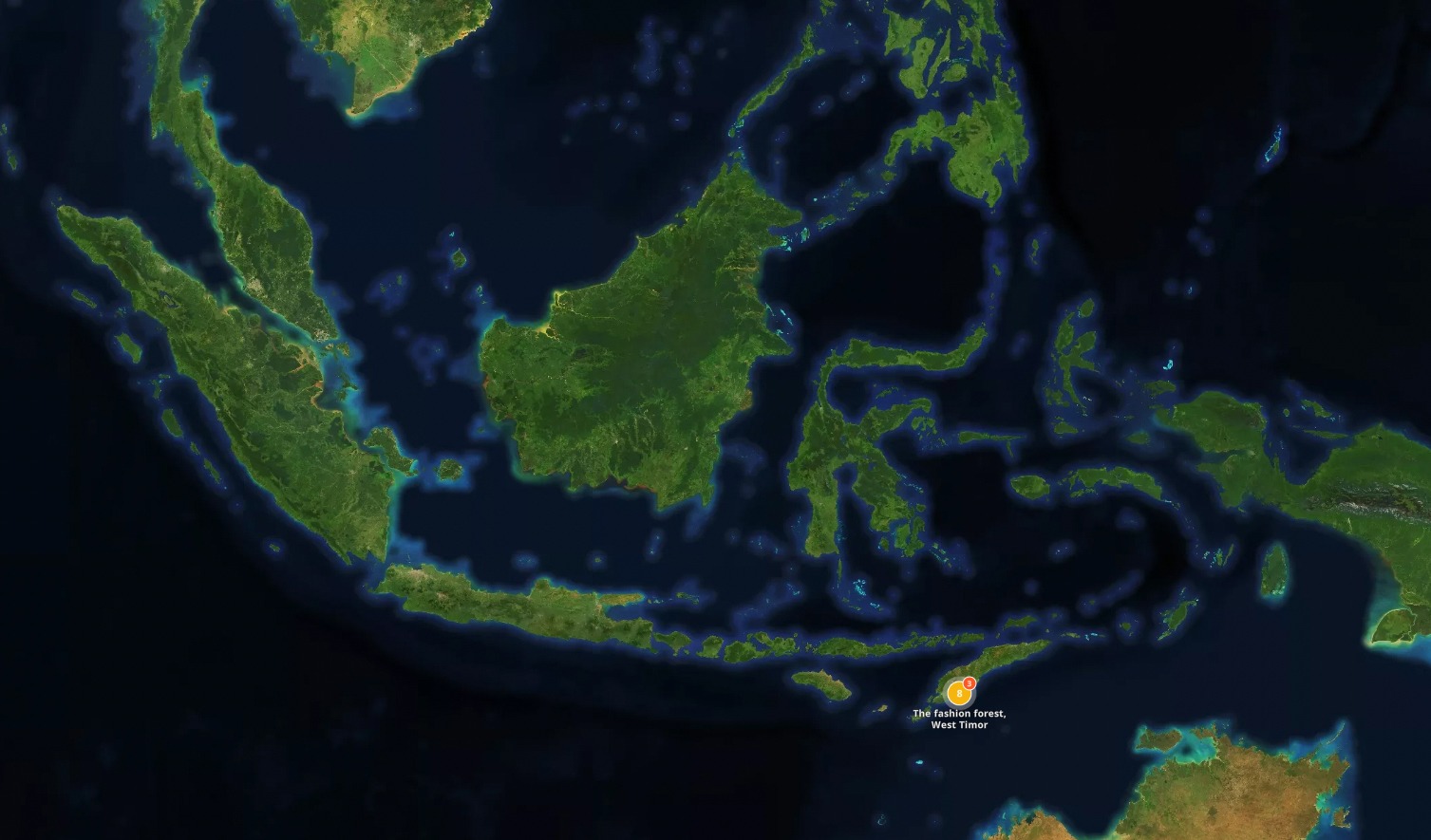 This method of using Gliricidia to restore land has been proven to be effective. By putting tall branches 1.5 to 2 meters deep into the ground, they quickly grow into trees with abundant leaves that fall off during the dry season. Lots of leaves means lots of biomass, so the humus layer grows considerably. Humus gives the soil a granular structure and consists largely of carbon, which helps retain water.
In Timor, the planting process of economic valuable trees begins after about two years when the humus layer has grown thick enough from the Gliricidia cuttings. Farmers plant corn and various tree species during the rainy season, and a local cotton variety is grown among the maize plants, which thrives under the protection of the maize. Thanks to the Gliricidias, the microclimate is favorable with shade and leaf fall limiting evaporation. Before long, indigo is planted and farmers will choose other native species to plant. CO2Operate has also opened up a new market for kapok, which will allow the kapok tree to return to the area.
Timor is known for its traditional fabrics made of cotton. Together with Sukkha Citta, we are experimenting with various varieties of cotton that support the local textile industry and can grow without irrigation, making it a sustainable and environmentally-friendly crop.
Kapok is an increasingly popular sustainable alternative to synthetic fillings and can be woven with cotton using innovative techniques. The market for kapok is currently being explored, and the kapok trees in the Fashion Forest are thriving. If the market offers prospects, the farmers in Timor plan to plant more kapok trees. The first large branches have already been planted in the ground.
We are currently exploring the potential of Gliricidia as a good source of income for farmers. The annual pruning of Gliricidia trees provides a significant amount of biomass that could be used in the national biomass power plant.
Furthermore, we plan to plant indigo shrubs in the Gliricidia forest towards the end of 2023. Indigo is an important natural dye, and its cultivation will further enhance the development of the Fashion Forest.
We are considering expanding the variety of trees in the Fashion Forest by planting more tamarind trees. Tamarind is a common tree species in Timor, and its fruits are highly sought after and valuable for farmers. The sale of tamarind is an important source of income for those who already have the trees, and we hope to increase the availability of this valuable resource through further planting.
Sukkha Citta is a social enterprise based in Indonesia that has received numerous awards for its work in sustainable fashion. The e organization is a proud participant in the Fashion Forest initiative, contributing funds to plant saplings and actively seeking out cotton varieties that can be grown without irrigation. Sukkha Citta uses the natural dyes produced in community-based projects for their clothing, making a positive impact on the environment and local communities.
All projects are led by women, using natural resources to create beautiful colors. Indigo leaves produce blue, Terminalia bellirica fruit creates yellow, mahogany provides red, and the sappan tree gives black.